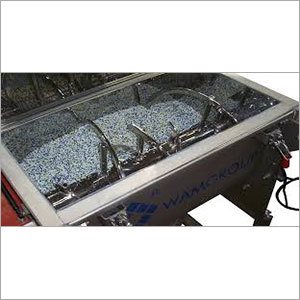 Ribbon Mixer Blender
Product Description
An ideal Mixed Ribbon Blender is designed for multi-purpose applications in the production of food, chemical, beverage, pharmaceutical, cosmetic, agricultural, plastic and other products. Owing to its multifarious attributes and low cost operation, it is preferred for most straightforward blending need. In the ribbon blender, properly designed and manufactured ribbons rotates within a close-tolerance horizontal trough to generate a balanced lateral radial rotation of the batch material. In it the blending cycles are fairly quick and mix quality, which is not hard to duplicate from batch to batch. Mixed Ribbon Blender requires minimum maintenance even when it is frequent product changeover is needed. Optimum performance of ribbon blender can be achieved through customization, technical specifications and proper sizing.
We mainly deal in South India

Features:

Maximum working capacity: 18 cu.ft.
Bulk density rating: 35 lbs/cu.ft.
Full holding capacity: 22 cu.ft.
Maximum batch weight: 630 lbs Stainless steel type 304 wetted parts polished to 60-grit finish.
Trough dimensions: 24 W x 60 L x 29 D One-piece, removable cover with safety switch to stop operation of agitator when the cover is open. Clamps and silicone gaskets are outfitted for dust-tight operation.
Two-piece aluminium stuffing boxes with adjustable and replaceable braided Ptfe packing.
Robust double ribbon agitator shaft designed for center discharge, top shaft speed: 50 rpm
Equipped with direct drive gear reducer, 7.5 HP TEFC motor, 4 knife gate discharge valve located 36 above the floor.
Product Details:
| | |
| --- | --- |
| Design Type | Customized |
| Condition | New |
| Automation Grade | Automatic |
| Speed (RPM) | 1450 |
| Orientation | Horizontal |
| PLC Control | No |
| Capacity | 10 - 2000 kg |
| Ribbon rotation speed | 70 to 100 meters per minute |
| Automatic Grade | Semi- Automatic |
Contact Us
North Kamala Nagar, ECIL, kushaiguda, Hyderabad Telangana India 91--7729991111
Phone :91--7729991111